October is mid-autumn and the days are noticeably shorter, the air is a little cooler and the city seems to draw in and hug itself. It's a time of wet shiny streets, glowing fires, warm lights, hot soup and scarves. For many, this is their favourite month and there are always lots of great and interesting things to do in October in Dublin.
Take these nine suggestions, for example:
1. The Nightmare Realm
If you like scary movies, ghost trains and haunted houses then you'll love The Nightmare Realm at the RDS. For the whole month of October (until November 5th) you can visit "Ireland's most terrifying scare house" and have the hell scared out of you.
Dark and freaky, with gruesome scenes and props, grotesque characters blood churning frights – Come on, it's Halloween after all. You're not worried, are you?
2. Oktoberfest Dublin
In a typically Irish take on the most famous beer festival in the world, Oktoberfest Dublin  will take place from September 15th to October 2nd – that's 18 days. How very Irish. This year the German Oktoberfest takes place at George's Dock and has entertainment for the whole family.
Without even leaving the city, you can experience Munich's Oktoberfest culture with a cold Erdinger Oktoberfestbier, a German pretzel and black forest Kassler.
3. Rocky Horror Picture Show
From October 3rd to the 8th, this amazingly weird and wonderful show will take up residence at the Bord Gáis Energy Theatre  in Dublin.
If, like many people, you've seen the Rocky Horror Picture Show lots of times, laughed and screamed, thrown toast in the air, sang and danced and joked along with the cast, then come on, let's do the Time Warp again.
4. Horror Expo Ireland 2016
Here's a suitably strange one for Halloween: Horror Expo Ireland 2016 takes place in the magnificent Freemason's Grand Lodge on Molesworth Street on October 30th. A day of panel discussions and talks will celebrate the gothic, literary aspect of All Hallow's Eve.
The key speaker is Trinity College's Professor Darryl Jones, a leading academic on horror. Other speakers include author David Moody, BAFTA-nominated TV writer Stephen Jones and comic-writer Maura McHugh. Paranormal Researchers will discuss their own experiences with the supernatural and there will be a candlelit midnight performance of The Cabinet of Dr Caligari.
5. Bram Stoker Festival
This could only happen in Dublin, Stoker's native city. Bram Stoker Festival 2016 is four days of living stories and four nights of hedonistic, undead adventures from October 28th to the 31st. Naturally, it is inspired by Stoker and his notorious novel Dracula.
The busy programme of events mixes family-friendly adventures with late-night antics for everyone. They range from large-scale spectacles to intimate performances in unusual spaces, along with a whole range of film and literary events.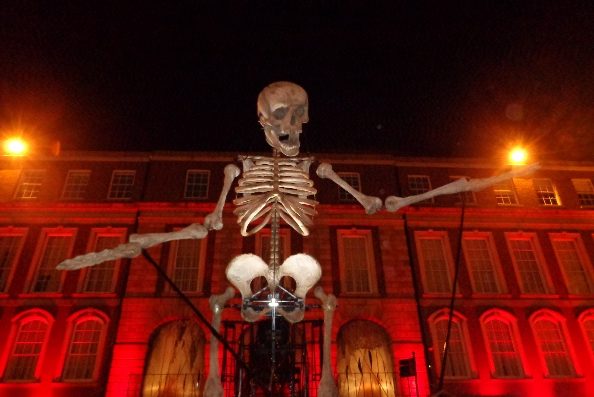 6. Open House Dublin
Following on from the huge success of last year, Ireland's biggest architecture festival, Open House Dublin  returns. Over one weekend, many great Dublin buildings of all sizes and periods open their doors to allow visitors to explore the architecture of the city.
There will be over 100 tours, events and workshops with hundreds of professionals and enthusiasts – all completely free.
7. The Commitments Live
From October 12th to the 29th the "hardest working band in the world" will be playing in their home town of Dublin. The Commitments is a fantastic movie by Alan Parker depicting the grim side of Dublin in the 80's and one band's struggle to rise using incredible music.
This musical took London's West End by storm and now it's back home. Catch it at the Bord Gáis Energy Theatre.
8. Fusion Sundays: World Culture Market
Every second Sunday of the month, Fusion Sunday happens. It's an international culture market with stalls from around the world, selling a range of handmade goods, arts and crafts, recycled products, jewellery, clothes and food.
Fusion Sundays: World Culture Market takes place from 11am to 5pm in the Dublin Food Co-op, on Newmarketsquare (off Cork Street).
9. Bear Grylls Live
Bear Grylls will take you on an edge-of-your-seat, action-packed journey through multiple environments and show you how heroism has shaped the world we live in today. With a cast of aerial artists and stunt crew, in a combination of live action and state-of-the-art video mapping technology with stunning special effects.
It's a celebration of some of mankind's greatest feats of courage and endurance. Bear Grylls: Endeavour will relive true stories of survival from frozen Antarctica and the cruel winds of Everest, to the humid jungle and even to shark-infested waters.
10. West Side Story
Is there a more famous Broadway hit than West Side Story? For four nights only, Dublin's Helix Theatre will host this modern day (well, 50's) Romeo and Juliet tale of Tony and Maria.
What made this show so famous? The dark theme, sophisticated music, extended dance scenes and focus on social problems made it a turning point in American musical theater and it has a hit soundtrack making it an instant classic.
You see? Even though it might be a little cooler outside, there are lots of things to do in Dublin in October indoors. Don't forget that if you're planning a visit to the city or are just looking for things to do, follow us on Facebook  for more suggestions and news.